Deposit Insurance
American Share Insurance (ASI) - Private insurance by member choice.
Why ASI Insurance?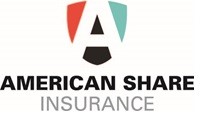 At CCCU your funds are insured for up to $500,000 per account. American Share Insurance (ASI) insures each account up to $250,000. Excess Share Insurance Corporation provides up to an additional $250,000 of insurance per account.
Not a state or federal organization, ASI and ESI upholds the highest standards of financial accountability – both for their company, and the credit unions that they insure. Only the most financially responsible institutions qualify to offer ASI. CCCU is proud that we consistently meet these higher standards and can offer the higher coverage limit to our members.
To prove fiscal responsibility, CCCU provides monthly financial information to ASI, and is thoroughly audited annually. Located in Dublin, Ohio, ASI is closely monitored and dually regulated by the Ohio Department of Commerce and the Ohio Department of Insurance. Additionally, Nevada's own Financial Institutions Division annually reviews CCCU and ASI for its performance and financial condition.
Do other credit unions use ASI?
Over one million Credit Union Members are insured through ASI. Credit Union Members not insured through ASI are usually insured through the National Credit Union Administration (NCUA).
ASI is the nation's largest provider of private deposit insurance for credit unions. They have been providing insurance to credit unions since 1974 and serving CCCU members since 1979 when the credit union members approved selection of the private insurer by vote.
Have questions? Call 702-228-2228, option 3.